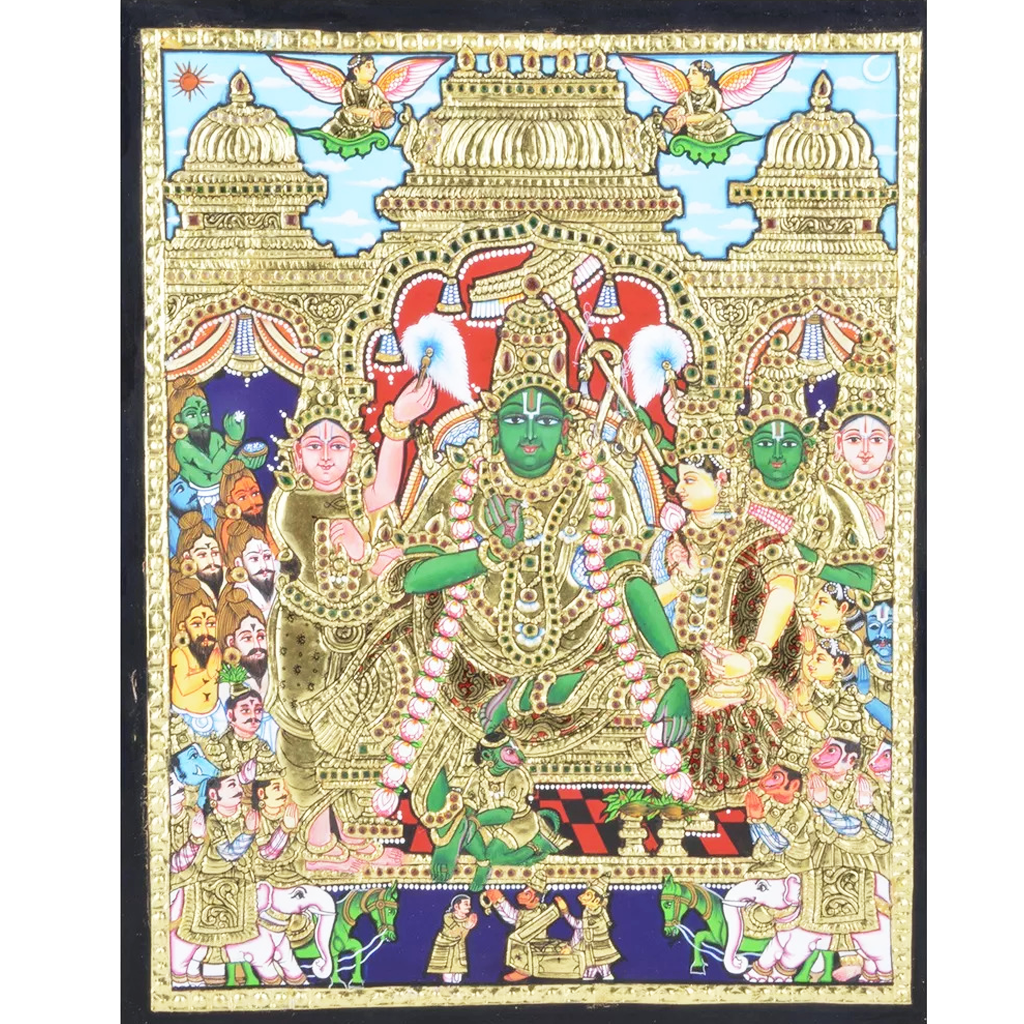 Ramar Pattabhishekam Tanjore Painting
Rs. 30,000.00 + Shipping charge
Ships 7 to 18 Days
Ramar Pattabhishekam Tanjore Painting:

This Ramar Pattabhishekam Tanjore Painting is made of high-quality 24-carat gold foil and authentic Jaipur gems. Crafted by skilled artisans in Thanjavur, this painting is 100% handmade. They are characterized by rich, flat, and vivid colors with simple iconic compositions.

This Ramar Pattabhishekam Tanjore Painting can be used as pooja room paintings, to decorate the walls of temples, palaces, and homes. It's made using unique handmade paints on plywood and comes with a 25 years warranty card. You can also customize the size and the frame of the painting according to your specifications.
About: Tanjore paintings are classical South Indian painting styles, that originated from Tanjore in Tamil Nadu back in the 17th century. These paintings are characterized by their rich and vivid colors, simple iconic composition, glittering gold foils overlaid on delicate but extensive gesso work, and inlay of glass beads and pieces or very rarely precious and semi-precious gems. They essentially symbolize ancient themes of traditional gods and goddesses.

Elegance: Tanjore paintings are believed to be auspicious and preserved as valuable antiques. The paintings are painted by expert artisans who empathize with precision and detail. These paintings make your walls beautiful and give them a royal touch. Also, they are an ideal gifting option for any occasion.

Size: Multiple Sizes
Color: Multi
Material: Plywood
Testimonials
Wonderful balaji tanjore painting that gives divine look to my pooja room.
– Mithra
Bought a beautiful customized painting. Awesome collections and great customer service.
– Mayank Pandey
Had a unforgettable painting at my home that gives luxurious look. Thanks to Mangala Arts and its artists.
– Shaiju
A great experience with Mangala Arts Team.
– Nirmal